A Guide To Pet Play BDSM: How To Train, Punish and Reward Your Pet
By Massimo Jenkins – Aug 19, 2022
Although the pet play kink is a fairly common one within the kink community, it's also one that the non-kinky folks have never heard of. This guide is not only for beginners but also serves those kinksters in need of inspiration.
2) What Is Pet Play (Is It Different From Animal Play?)
Let me answer the all-to-common question of "What is pet play?". While one partner takes on the role of the owner or trainer, the submissive partner (could also be the dominant, but less common) takes on the character of an animal pet. The pet usually gives up complete control and wants to be guided and dominated by their owner. As the name indicates the submissive partner wants to be treated like a pet.
Whereas in animal play all partners play animals. Similar to pet play there usually is a dominant animal in the dynamic. The dominant might set the rules, get to eat first, or take the lead during animalistic and hot sex.
3) Temporary vs. Permanent
Before we get to the part where we list the different pets you can play you should know that there are two types of pet play BDSM, temporary and permanent pet play.
In temporary pet play the participating partners might act out their scenario after work for a couple of hours before taking on their roles as adults again.
While in permanent pet play the pet-owner dynamic is rarely stopped. This can become quite complicated and is difficult to maintain, nevertheless, these dynamics do exist.
Some pet plays are more suited for permanent play than others. Kitten play for example can be permanent, while pony play usually isn't permanent.
This term comes from BDSM and describes the endorphin rush a pet has when entering into the comfort of pet play, not having to stress about anything, and being controlled by their owner.
Total immersion into the characteristics of that animal is often required. Pet players often describe it as a place of trust and comfort where they are able to escape the daily adult stress and submit to a person they truly trust.
5) What's So Thrilling About Pet Play BDSM?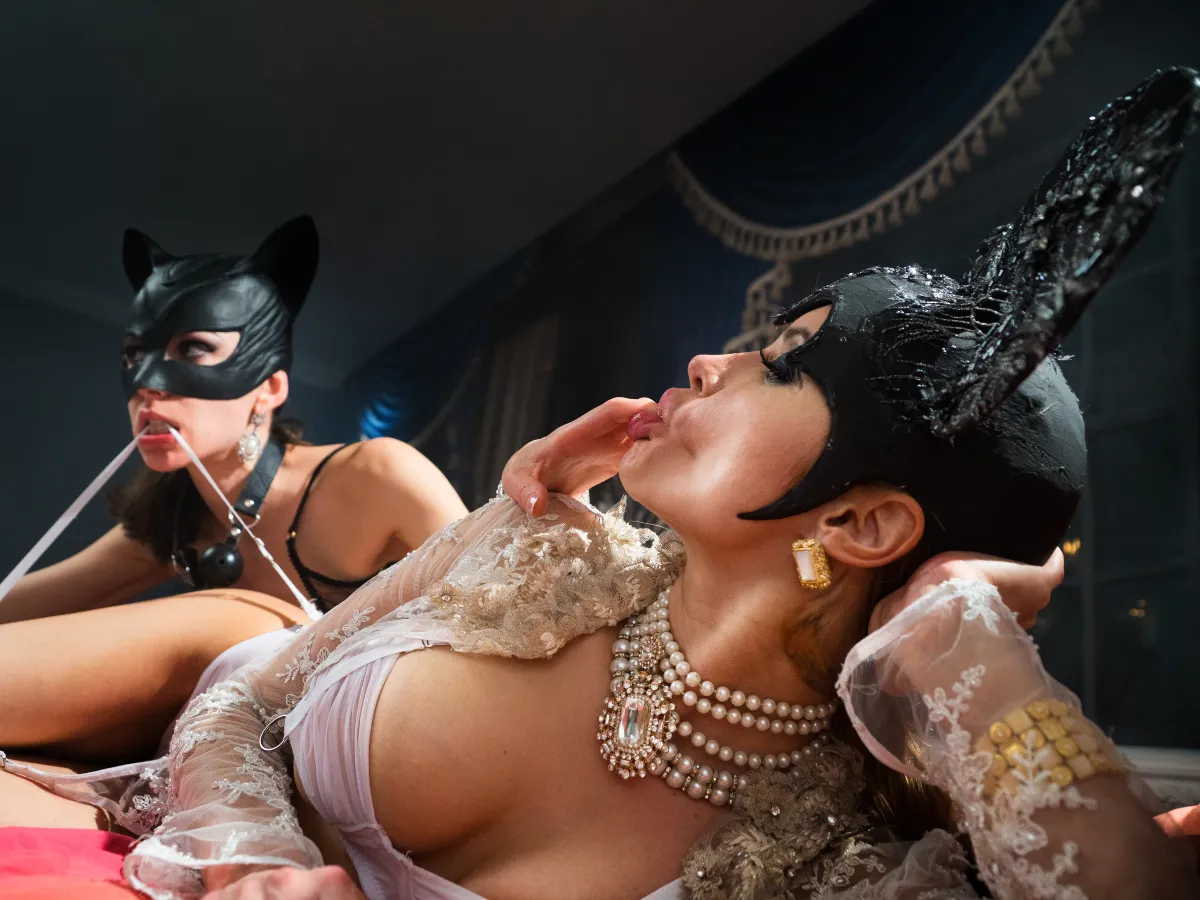 As with many other BDSM practices, it's a great stress reliever for participants, especially the submissive. Giving up full control and letting go of adult problems can be quite a relief.
The act of giving up control and submitting to a partner requires strong trust and the feeling of safety. This trust and connection only get stronger through safe and consensual BDSM practices.
Obviously, both partners usually love the cute, innocent, and sometimes feisty personality the pet might take on. For the pet, it's often the strict contrast to their duty-filled adult life, which is so appealing.
But there is more. Many, and I fully relate, adore the costumes, the lingerie, and the gear that comes with this kink. Others are into the humiliation of being treated like an animal. To each their own, and rightfully so.
Kinksters who fully integrate the pet fetish into their lives will realize that the community, available resources, and events are huge in numbers and incredible in creativity.
6) Choose Your Pet Animal
Choosing your pet type is important, but can obviously be changed at any point. Normally the pet player already has one in mind, to which they identify most. If not so, I suggest you try out 2-3 animals to which personality traits you are most drawn. 
Puppy Play
This one is very common, especially in the gay community. As the name indicates, the pet player usually takes on the playful, cute, and exploratory personality of a young puppy. Which is great, because an untrained and young pet requires a lot of fun and challenging training with their owner. 
Being able to choose from countless different breeds is just another amazing plus.
If you want to know more about this kink, check out our complete puppy play guide. 
Kitten Play
Almost equally as common as the latter and often loved by DDLG kinksters, the pet player gets to take on an adorable, playful, and bratty character. Whether they prefer an obedient or not-so-obedient character is up to them. Nevertheless, there are limitless fun and sexy activities this dynamic has to offer. But especially if the pet player likes a lot of attention and the feeling of being cared for this one is perfect. 
For more information on kitten play, read our kitten play BDSM blog article. 

Rabbit Play 
Not as common as the ones before, especially because the activities are a bit limited. Nevertheless great for those who want a lot of cuddling, petting, and jumping around. The lingerie and gear can also be really cute. 
Pony play 
Very common in the fetish world, with a lot of communities and gear available. One reason for this might be the limitless activities you can do. Training is usually one of the most common activities owner and pony engage in. From training how to walk to training how to show off, the possibilities really are limitless. 
Some ponies might pull their owners in their cart or have them ride their back. Important to note is that backs are not made for riding. The owner must always support their weight with their own feet to avoid back injury. 
To learn more about this pet play, read our complete BDSM pony play guide. 

Cow Play
Although it's rare, it does exist. Milking the breasts with special pumps and breeding are often activities cow players would engage in. Some cow play communities might even organize auctions (with consent obviously). 
Fox Play
Unlike the ones named before, this one is more on the wild side. Since foxes can't really be tamed, they are perfect for a pet play BDSM dynamic. Scratching, play fighting, or light biting can all be great reasons to punish your fox. As they can't be trained, foxes are usually older in age, independent, and need less attention. 
Wolf Play
Another wild pet play, no doubt about it. Primal play such as biting, wrestling, fighting, and struggling to tame the wolf could all be part of this pet play. Couples that are switchers might find this fun, as the wolf could overpower the owner. Alternatively, you could use puppy play activities and make them so much wilder.
Pig Play
Not very common but great for pets that are into humiliation and degradation.
You can´t possibly imagine the amount of pet play gear that exists on the internet. Most pet kinks have their own gear shop and community.
Kittens could wear cute ears, collars, tails (sometimes designed as butt plugs), paws, fluffy toys and so much more. Ponies might wear leather bridals, saddles, boot- or glove hooves, harnesses, etc. Puppies have even more options. Paws, tails, puppy masks, leather bodysuits, collars, and toys can all be bought online.
For BDSM purposes collars with leashes, leather accessories, gags, harnesses, floggers, whips, and bondage ropes are perfect and offer so much diverse play (more later).
As with any sexual activity consent is a non-negotiable must. Agree, discuss, and consent to certain activities prior to your pet play BDSM scene. Additionally agree on a safeword that will end any activity immediately. And don't forget aftercare (cuddling, reviewing, massages, hot bath, etc. )
9) Activities For Pet Play BDSM
The activities might vary depending on the animal, whether it's sexual or non-sexual pet play, and how kinky both partners want it. A rabbit might prefer a lot of cuddles, while a puppy might want extensive training.
Think about the characteristics of your animal. How do they act? Are they wild, cute, or exploratory? What sound do they make when trying to get attention? Do they meow, or bark? What gear would be fitting? Should you wear paws, a collar, hoove shoes, or a tail butt plug?
Typical activities would be grooming them, brushing their fur, having them eat out of a bowl, walking them, petting, cuddling, playing with animal toys, etc.
Training your animal to walk, show off (ponies), listen to commands, or play fetch is a great way to also incorporate some sort of punishment or reward (more on that later).
For those into humiliation, there are a couple of pet play BDSM activities that you could explore: walking on a leash, eating out of a bowl, sleeping in a cage, and using a litter box instead of a toilet.
Bondage is another popular kink that can easily be incorporated into pet play BDSM.
Almost any pet can wear some form of a collar. Make sure to buy one, that has a ring attached so you can quickly attach a leash. Which you might do when your pet is misbehaving, walking into rooms they are not allowed in, or taking a walk (in private areas).
Locking them into a cage (remember, don't leave the room when your submissive is locked in a cage) is a form of bondage and can be used as a form of punishment.
The more typical form of bondage, namely rope bondage can be used to restrain the pet's legs, paws, and bodies. To make pet play bondage even more fun, think of a reason or scenario why you are restraining them. Your pet might struggle when being groomed or they might need a medical checkup for which they must lie still. Maybe they've been bratty for quite some time, or you just want to restrain them for kinky sex? n nnn
11) Training, Punishments, And Rewards
Very often training will be a core part of the pet kink. The reason why both pets and owners love training is due to its versatility. Not only can you train different commands, but you can also vary the punishments and rewards for your pet.
The owner will usually say a certain command to which the pet must respond correctly, by doing a task or taking a position. If the owner is satisfied they will give their pet a reward. But if there aren't, the pet gets punished and has to correctly redo the exercise.
Punishments and rewards should have different levels though. If your pet does something wrong once, verbally scold them. Only after multiple wrong attempts or bratty behavior should you punish your pet severely. (Just my recommendation, do as you both wish). The same applies to rewards. Easy tasks get verbal reassurance while complicated commands might get a treat.
Training
Walking next to the owner on command

Sitting on command

Getting a toy on command

Offering their neck on command so the owner can attach a leash
Punishments
Scolding them verbally

Spanking or flogging their butt

Spraying cold water into their face

Taking away a certain toys
Rewards
Verbal praise

Treat, could be sweets or popcorn

Fondness and attention

Some might want rough sex
12) How To Integrate Pet Play Into Sex
While many couples don't integrate the pet kink into sex, many do. Here are some examples of how to: 
Wearing sexy pet play costumes during sex 

Do certain positions eg. doggy

Making animal noises during sex eg. meowing

Being submissive 

Moving like your animal eg. on all fours

Scratching, licking, biting, play fighting 

Keeping the pet in a cage

Bondage – restraining your pet 

Using rough sex and impact play as a punishment or reward
We hope this guide was an easy but extensive introduction to the pet play kink and you are able to find some inspiration for your first or next pet scenario.