Gay Pup Play: A Guide To Training, Commands, Gear And So Much More
By Massimo Jenkins – Aug 03, 2023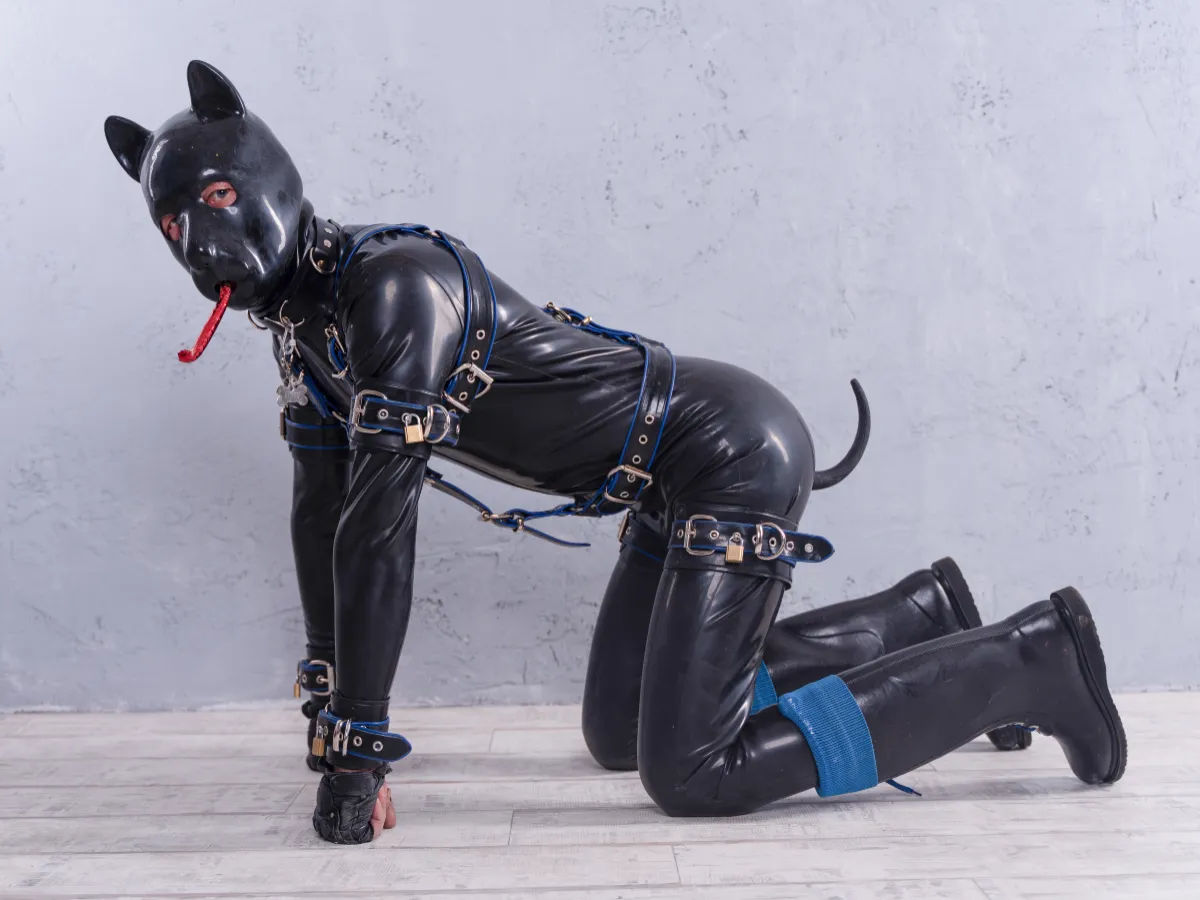 In pup play (also called puppy play) the human pup will typically take on the character of a playful puppy while the dominant acts as the pup handler. Most pups no longer communicate with words but with growling.
The pup play fetish is a sub-kink of pet play and has gained a lot of popularity in recent years, especially in the gay community. And although it's not all gay pup play, it definitely is the vast majority.
Gay pup play is not restricted to two partners. Pups often come in packs and meet up at gay fetish bars, clubs, and events to play together. Being a solo pup would mean wearing pup gear around the house, acting like a puppy in once own privacy, or attending the above-mentioned events solo to find play partners.
Almost every pup-handler relationship is a dom-sub relationship, with a submissive pup and a dominant pup handler. And although the pup fetish might seem sexual, not every gay pup play is. Many events and dynamics are non-sexual and focus more on playtime, gear, or training.
2) Why Is Gay Pup Play So Appealing To Many?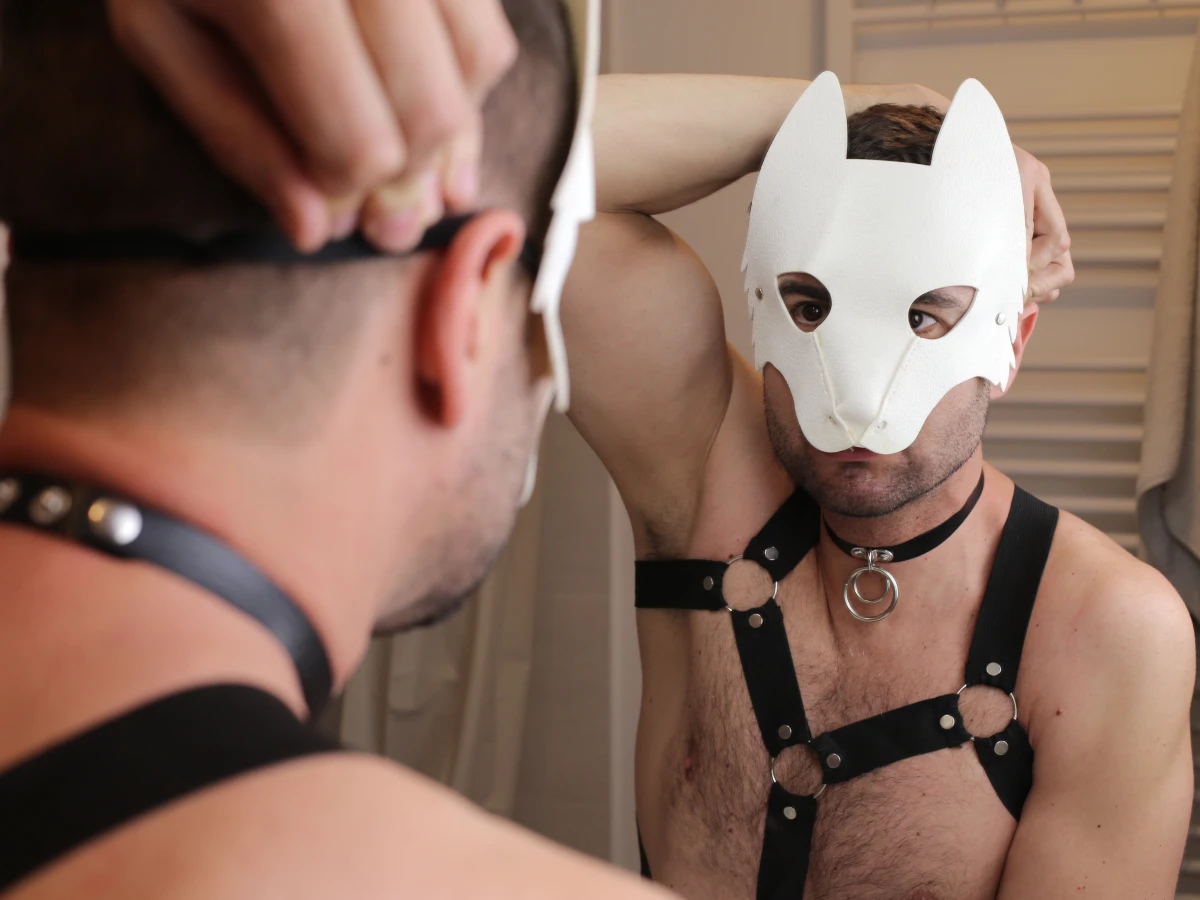 A puppy's life is careless, playful, and detached from any adult responsibilities. Engaging in puppy play helps with escaping the daily stress and giving up control to a partner you completely trust. This act of submission where the pup gives up decision-making can feel very freeing and liberating.
The required trust a dom-sub relationship requires often helps with strengthening the bond between both partners. Even just attending pup community events together can be a fun activity since pups get to play with other pups while handlers get the chance to chat with like-minded handlers. The gay pup play community is huge and growing rapidly which gives you so much more opportunities to act out this amazing pup fetish.
The role of a handler is great for dominants that like to take care of, guide, and be given undivided attention. During activities, they act as trainers with some being gentle while others are more strict and demanding. To many puppies, they play an important and almost vital role when trying to reach pup space.
Pup space is a mental headspace a puppy enters when they feel closest to their inner puppy and are able to fully let go of their human logic while taking on a playful and careless character. To enter this headspace a puppy must stop overthinking how a puppy must act, but rather tap into their playful and wild side.
Similar to other pet plays, wearing gear can be a tremendous help when entering pup space. If you consistently put on your pup gear at the beginning of every roleplay it might even become a trigger, shifting you into pup space the second you slip into your paws or mask.
4) Importance Of Pup Gear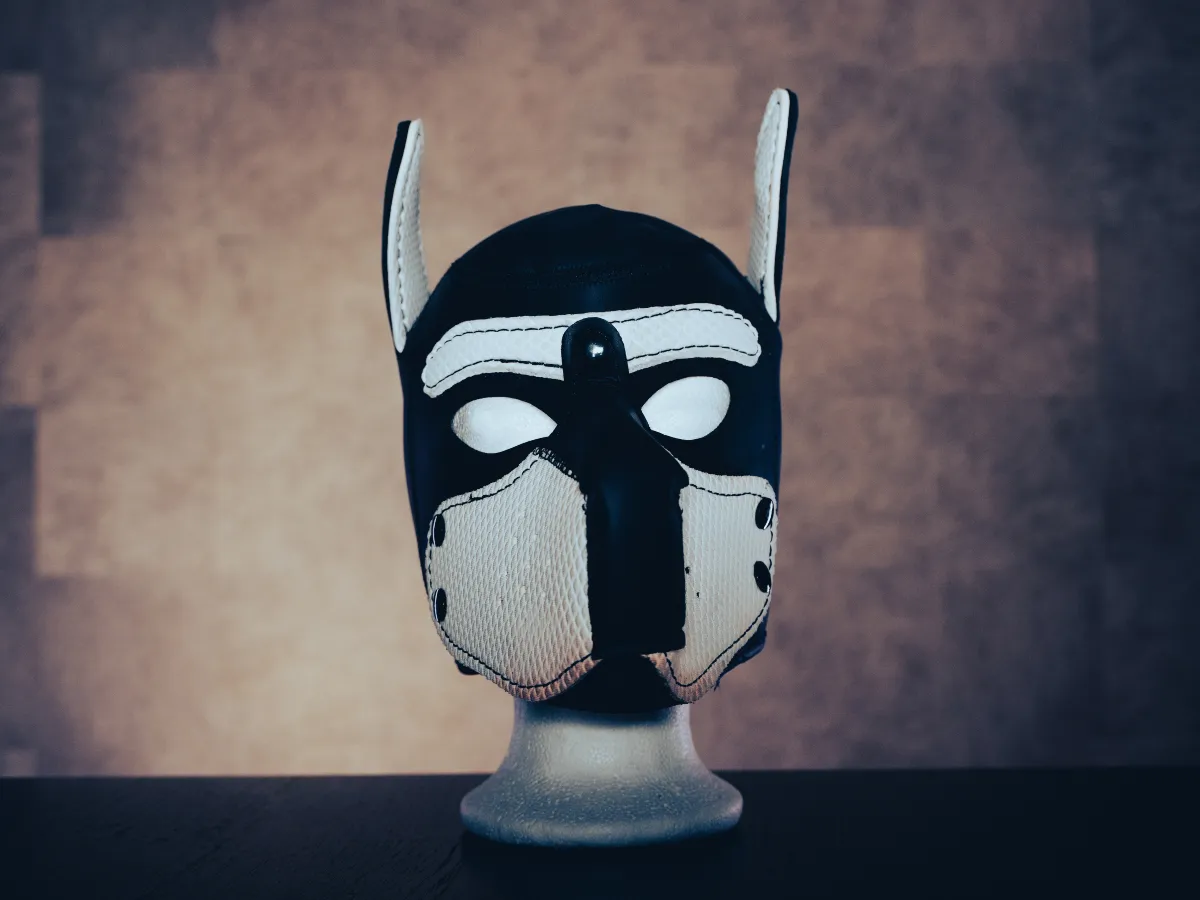 Truth be told at least one item of pup gear is super important. Yes, yes, it's possible to be a puppy without gear, but trust me when I tell you that gear will bring you so much closer to your inner puppy. It doesn't have to be fancy or expensive, a simple collar will do it. From here you can add to your collection: 
Pup hoods or masks – great to get into puppy space

Collar – can be very submissive and are great to attach a leash

Leash – walking and controlling your puppy

Harness – mostly made of leather

Bodysuits – often made of latex

Tails – usually come as butt plugs; some can be attached around the waist

Knee pads – important for protection if you spend a lot of time on all fours

Paws – used for aesthetics

Toys – such as balls, frisbees

Kennel – large enough for humans (pup must always be able to exit on their own)

Dog basket – less extreme alternative to the kennel

Food and water bowl
"Collaring" describes the conversation and decision to establish a Dom/sub relationship. "Collaring" should always start with a discussion on limits, pleasures, and a safe word. Some even put together a contract in written form to add to the dynamic and to make sure the limits are fully understood. It goes without saying that consent can always be taken back.
This conversation is usually a great place to talk about what kind of dynamic both partners prefer. Is the pup more cuddly, do they prefer thorough training, should there be punishments, if so how kinky, are both interested in meeting with other pups and handlers, etc.
You might also want to talk about how long you want the roleplay to last. Most engage in temporary roleplay, where the roleplay only lasts a couple of hours, as opposed to permanent roleplay which is engaged nearly 24/7.
In a puppy play collaring ceremony the handler usually gifts their pup a collar with their name on it. And although the handler often chooses the name, some pups prefer to do it themselves as they feel more comfortable this way. Common names are Lucky, Bruno, Benny, …
6) Activities For Human Pups
I dislike limiting myself to boring explanations and terminology. So I want to ensure you have some specific exercises for your first or next gay pup play: 
Training certain commands is versatile and can be a lot of fun when integrating punishments and rewards. (more on training later)

Playing fetch with a toy 

Walking your pup in the house on a leash

Feeding your pup out of a bowl

Grooming your pup – this can be very intimate and lead to sex 

Petting or cuddling as a reward or while watching tv 

Putting your pup to sleep in a cage or dog basket 

Showing off new gear 

Bondage on your pup if they have been disobedient 
7) The Ever-Growing Pup Community
To find events I'd recommend using Google, FetLife, the Reddit subspace "PupPlay" or Pupspace.net. As mentioned the pup community is huge and there are plenty of events you can attend: 
Outdoor games or hikes with other pups

Playing fetch in groups

Play fighting

Breeding – but this must be agreed upon and consented to beforehand

Showing off gear

Music festivals/clubs

Conventions and expositions

Competitions between pups
Besides being a lot of fun, training helps to bond the pup and handler closer together. The way training works is that the handler says a certain command to which the pup must respond correctly. When performed correctly the pup gets a treat or verbal affirmation. Errors will either be punished with verbal scolding or a spank on the butt. In any case, the command will be practiced once again until the puppy gets it right. Start with the following commands: 
"Sit" -> The puppy must sit upright with the legs folded underneath and both paws touching the ground

"Come close" -> The puppy must catch up or come back 

"Collar" -> The puppy must sit in front of their handler and lower their head so their handler can either put on or take off their collar

"Leash" -> The puppy must sit in front of their handler and lower their head so their handler can either attach or detach a leash

"Down" -> The puppy must lie down flat 

"Wiggle tail" -> The puppy must wiggle their tail 

"Snuggle" -> The puppy must cuddle up next to the handler and lay their head on their lap

Handler says "fetch" and throws a toy -> The puppy must collect the toy with their mouth and bring it back

"Kennel" or "Basket" -> The pup must walk into the kennel or basket and snuggle up
9) BDSM, Rewards, And Punishments
Punishments can be integrated into training, regular pup play, or sex. But don't forget, rewards are equally as important. Whether a pup's character tends to be disobedient to receive more punishments or obedient to receive more treats can be discussed beforehand or decided situational (provided it's consensual). Keep in mind that every puppy is different. Some like to be spanked as a punishment while others see it as a reward.
During training, you might scold your puppy with "wrong" or "bad pup" when he fails to do a certain command for the first time. A second wrongdoing could be punished with spanking or more severe punishment. Such as flogging, orgasm denial, bondage, humiliation, or locking them into their cage. Other reasons to punish your pup might be barking, jumping onto furniture, scratching, or not listening.
During training, you should reaffirm your pup with a "good boy" when he does a command right. Other rewards could be their favorite sweets, head pats, being allowed to give their handler a blowjob, sex, or getting a new toy. Make sure to give them a reward when they are being especially good and obedient.
10) How To Integrate Pup Play Into Sex?
Many pups like to start non-sexual as this gets them into pup space and makes both of them really horny. The sex can either be seen as a reward for the pup or a punishment if it's rough. Other ways to integrate gay pup play into sex might be: 
Blowjob as a reward

Using a tail that inserts as a butt plug

Orgasm denial or edging as a punishment 

Anal sex in doggy

Using a collar and a leash 

Bondage to hold the pup in place 

Sex as a reward 

Wearing gear during sex
I hope you got a good introduction to gay pup play and the versatile range of activities and training you can indulge in. My final tip is to find a like-minded community to live out your pup play kink in a judgment-free environment.