40+ BDSM Role Play Ideas & BDSM Scenarios For Hot D/s Nights
By Massimo Jenkins – Aug 11, 2023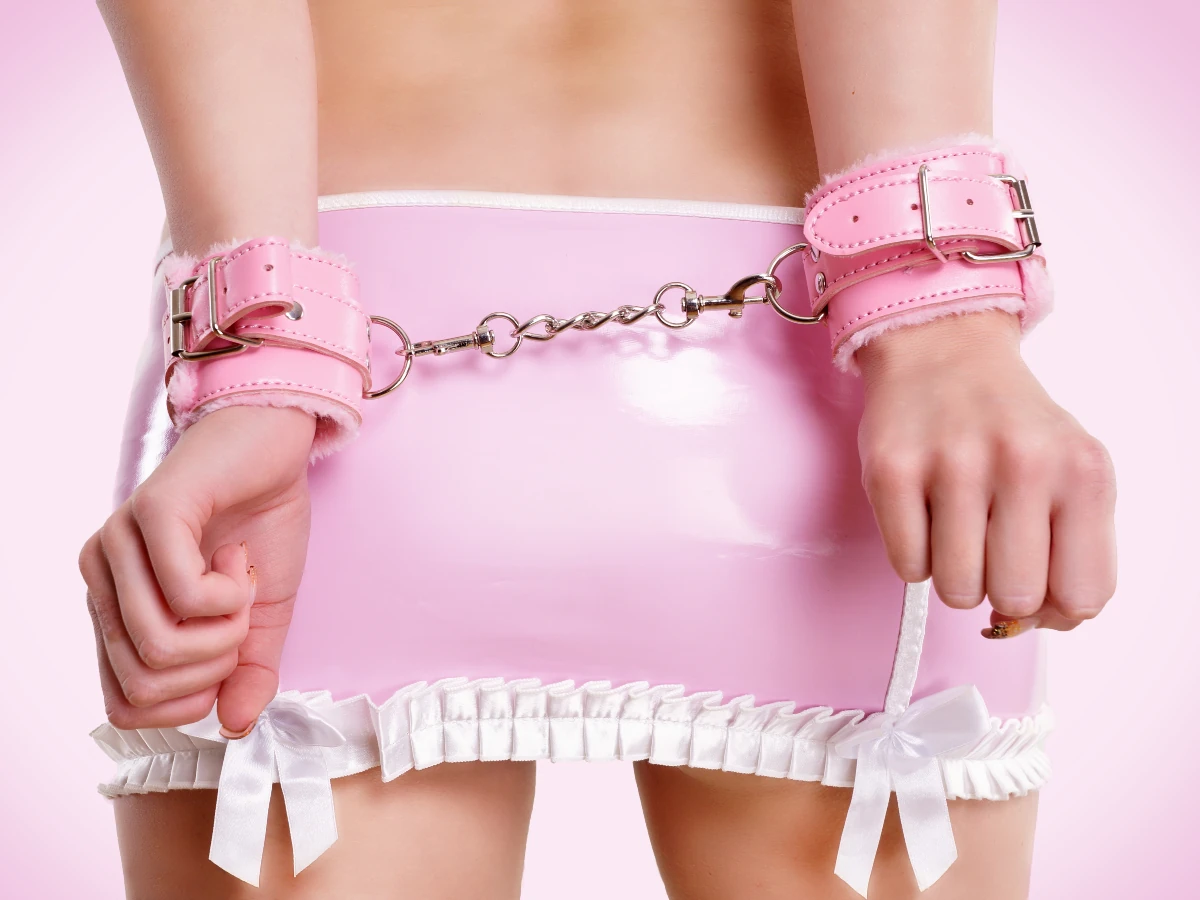 Dominance and submission (short D/s) is one of the more popular fetishes among the existing fetish spectrum. A study from 2015 revealed that 25% of men and women either prefer being dominant or submissive while an additional 28% like being both – submissive and dominant. 
One of the best ways to act out this versatile fetish is BDSM roleplay. When dominance and submission are put into a BDSM role play the punishments and acts of dominance are given a purpose. 
In the context of a BDSM roleplay, the submissive's ass isn't flogged for the sake of it, but because they could not pay the rent this month or due to bad behavior during class.
2) Consenting To A BDSM Scene
This one should go without saying, but consent is always necessary. It's also not final – consent can be taken back at any time during the BDSM scene. Every of the following BDSM scenes can only be acted out after all partners have given their consent.
3) Pre-negotiating A BDSM Scene
Before the BDSM scene begins sit down and have a chat with your partner. Tell your partner exactly where your hard limits are and what feels pleasurable to you. Especially when playing with a new partner, assume your partner knows little to nothing about you. 
The better you communicate what you enjoy, the more likely your BDSM scenes will turn out hot and steamy. Agreeing on a script might also be a good idea. Decide on how the BDSM scene will start and how the power dynamics come into play. Lastly, take a look at the following BDSM punishment ideas and decide which you want to incorporate.
There are endless opportunities to punish your submissive during your BDSM roleplay. 
Here is a list with a couple of ideas: 
Spanking their ass with your bare hands

Using punishment toys such as floggers, canes, or 

paddles

Dripping hot wax from special BDSM candles on their butt 

Rubbing Ice cubes on their nipples

Restrict them with ropes or 

handcuffs

Humiliating them through words such as "dirty slut" or "whore" 

Orgasm control: stop stimulating them just before they come several times before letting them orgasm 

Orgasm denial: permitting them to orgasm at all

Make them do difficult tasks or those they hate eg. washing up 

Masturbate in front of them, while they are tied up and unable to touch themselves

Savely choke them 

Have them wear a 

gag

Make them wear an anal plug 

Make them wear a vibrator in public 

Fisting them 

Pulling their hair 

Teasing them with a 

Wartenberg pinwheel

Tickling them

Walk your submissive like a dog 

Force your submissive to be silent 

Have them wear a collar 

Make them wear nipple clamps 
Feel free to use any of these punishments instead of the suggested ones in the following BDSM scenarios. 
5) Communication During The BDSM Scenario
Being able to communicate your limits and dislikes during your BDSM roleplay is crucial. Although a safeword is a great option, we recommend the traffic light system (red, yellow, green).
The words "no" or "stop" can be incorporated into the play, while colors usually aren't. "Green" means everything is good, "yellow" indicates you should back up a bit, your partner is approaching their limit, while "red" stops the play immediately.
When playing with a new partner, make sure to ask them about their body language. Every person reacts differently to their limit and their pleasure points. For example, some arch their back when enjoying while others do it when in pain.
Take some time after your BDSM roleplay to discuss what went well and what might be improved. Always start with positive aspects before asking your partner to improve something.
Cuddles, massages, or a bath together are a great way to transition from an intensive BDSM scene back to reality.
Here you will find our extensive list of BDSM scenes to try. The arrow on the right will lead you back to the menu for faster navigation.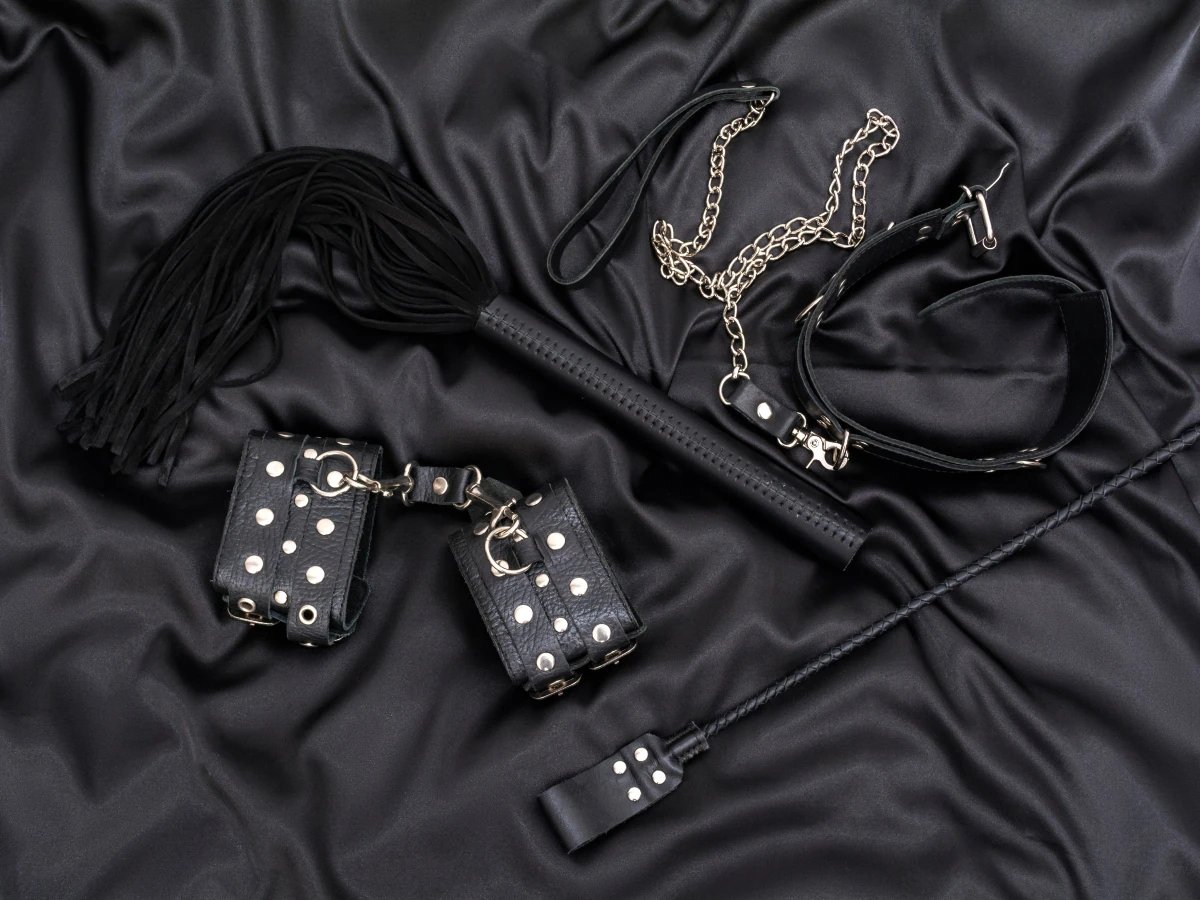 The submissive partner cooks the dominant food and serves them drinks. After you've finished eating the dominant will declare that the food was absolute garbage and that the cook must be punished. 
He could make her clean up the dishes while spanking her. After that, any punishment works perfectly. 
Wear this: Cook costume or submissive lingerie (submissive) 
Tip: The submissive could be naked and only wearing a collar during cooking
One of you has been incredibly disrespectful during class. As a punishment, they have been sent to detention. The disobedient student tries to seduce their teacher to shorten their punishment. But their attempt backfires – they get punished in ways they did not expect. 
The teacher might start by demanding the student to give them head before spanking their ass with a wooden ruler. Make her count every impact on her bare ass. Either bend them over a table or position them over your knee. 
Wear this: Shirt & tie or sexy teacher outfit (teacher), naughty school girl costume
Accessories: Wooden ruler
The next time you go out and the submissive is the reason why you arrived late to a social meet up whisper this into her ear: "When we get home I will punish you for being late again, you worthless slut". 
The build-up tension will be a huge turn-on for both of you. Later that evening, the minute you shut the door behind you, aggressively take her and bend her over a couch or table to punish her. 
Accessories: Flogger, bondage ropes
The debt collector knocks on the door. Clearly, the resident can't pay the money back – they are broke. The debt collector demands payment of any kind plus a thorough punishment. 
The dominant could start by punishing the submissive through impact play, a wartenberg pinwheel, or nipple clamps. After the submissive has been punished they need to pay up with sex. 
Wear this: Lingerie (resident), dark suit (debt collector)
Accessories: Nipple clamps, wartenberg pinwheel, flogger,  paddle or cane  
Partner one goes to church to confess fantasizing about cheating on their partner. The priest explains that there is a special punishment for infidelity. 
An appropriate punishment could be to humiliate your partner by calling them degrading names. Alternatively, you might drip hot wax from a safe distance onto their skin and let them explain in full detail what their sins have been. 
Wear this: Priest costume, slutty minidress (sinner)
Accessories: Special safe wax candles
If possible act out this BDSM RP on an empty parking lot. The partner playing a police officer walks to the car just as it parks. When he confronts her about speeding she tries to flirt her way out of the ticket. 
But the officer catches on and he is pissed. After searching her while she stands against the car, he punishes her in the back seat for trying to bribe an officer. 
Wear this: Officer uniform, slutty mini dress (driver) 
Accessories: Handcuffs, flogger
Choose a sport you both like or at least understand the rules of. Watch a live game together and bet on the outcome beforehand.
Agree on what sexual punishment the loser receives or what sexual prize the winner gets. The winner might dominate the loser, edge them multiple times until they beg for an orgasm, or it could be as simple as getting head.
Wear this: The loser might need to dress up for the winner
Accessories: Ropes or flogger, paddle or cane
The partner playing the maid or butler did a horrible job cleaning the kitchen. Their boss is absolutely furious and calls them into his bedroom. 
He demands them to get on their knees and satisfy them. After they came he proceeds to punish them in BDSM style. 
Wear this: French maid lingerie, butler costume, suit (boss)
Before starting the BDSM scene, agree on a topic the tutor will quiz the student on eg. capitals of all European countries or vocabulary. The dominant tutor then quizzes their student on the topic, but with a twist. 
Every time they are wrong, punishment is due. What type of punishment this might be is up to you. This could be a hit with a cane, giving oral, dripping hot wax on them, etc. 
Accessories: Safe wax candles, flogger, paddle or cane
Before starting the BDSM scene, agree on a topic the tutor will quiz the student on eg. capitals of all European countries or vocabulary. The dominant tutor then quizzes their student on the topic, but with a twist. 
Every time they are wrong, punishment is due. What type of punishment this might be is up to you. This could be a hit with a cane, giving oral, dripping hot wax on them, etc. 
Accessories: Safe wax candles, flogger, paddle or cane 
Almost in every city, you will be able to book a BDSM-equipped room. Many of them are equipped with BSDM furniture, ropes, and other impact toys. To put this into a scenario one partner will play a fetish escort fulfilling their client's every wish. The escort arrives after the client and demands her money when entering. After giving her the agreed sum in an envelope, the both of you start talking about what your limits are and what you would like to try out. To add to the dynamic, you could use different names and stories. 
Wear this: Leather lingerie & wet look stockings (escort), suit (client)
Accessories: Fake money, envelope
You start your roleplay by hypnotizing your partner with a pen moving from left to right while telling them you have complete control over them. Now the master can demand whatever he wishes. 
Before sex, he might want them to wear a vibrating dildo or butt plug in public, which only the master can control. During sex, let them know exactly what you want them to do, and they will oblige without question.
Wear this: Black suit or shirt (male dom), dominant latex lingerie or suit (female dom)
Accessories: Vibrating panties, vibrator 
One partner plays a caught enemy spy that has been tied to a chair. The specialist wants to know the location of a secret weapons depository. 
They could use all sorts of tools to extract information: flogger, cane, nipple clamps, candle wax, or force them to multiple orgasms. Only when the spy achieves their second orgasm will they reveal the information. 
Wear this: latex suit (specialist), naked (spy)
Accessories: Flogger, cane, nipple clamps, safe wax candles
This might be one of the hottest fantasy roleplays you could do if you are into dom/sub scenarios or humiliation. 
The Joker pulls her hair, tells her what to do, restrains, verbally degrades, or even punishes her. While still seeing her as his queen and not letting any man near her. 
Wear this: Joker costume, Harley Quinn costume
Accessories: Ropes, flogger, paddle or cane 
The boss calls their employee into their office. Immediately they start humiliating them and calling them out on their poor work during their last pitch. He explains they have lost a client due to their mistakes and that there needs to be a punishment. 
The boss aggressively bends her over the desk and has his way with her before laying her over his knees to spank her. 
Wear this: Suit (males), tight office skirt (females)
The dominant realizes his submissive hasn't been a good sub recently and decides to give them extra tutoring. 
Firstly have her strip naked and let him inspect her from top to bottom. Then teach her proper positions to submit. One position might be her sitting on her knees with her hands behind her back and straight back. Another might be her on all fours. 
Afterward, teach her to take those positions when saying a certain command eg. "POSITION 1!!!!"
Wear this: Collar (submissive), black suit or shirt (male dom), dominant latex lingerie or suit (female dom)
For this, you have to buy a clean dice with no labeling on it. Write a punishment on every side. 
Whenever your submissive is being a brat on purpose you could get out your punishment dice. Let her roll the dice and say the punishment out loud. 
Accessories: Clean dice 
Step-dad and his little girl
Although the step-dad strictly forbid his step-daughter to go to the club she went anyway. When she quietly sneaks in the front door in her slutty club dress she sees him sitting in his chair with a wooden ruler in his hand. 
She knows she messed up and what punishment awaits her. Arguing won't help so she positions herself over his knee to get spanked. 
Wear this: Slutty dress (step-daughter)
Accessories: Wooden ruler
The submissive must set the table, cook their dom food, and clean up afterward. Then after bringing them drinks and snacks while he is watching the movie may she give him oral. The dominant is in full control over his and especially her pleasure. 
Wear this: Slutty schoolgirl outfit or lingerie or naked & collar (slave)
The dominant is a professional BDSM toy tester. Get all your BDSM toys out and test them on your submissive. They must rate how they feel on their skin, during impact or when tied up. 
To include orgasm denial you could also test vibrators and just before your submissive is about to cum take away the vibrator and say "let's test another toy" and take out a flogger to test on their butt. 
Accessories: Vibrator, flogger, paddle or cane 
The single father comes home early from a work event and finds the nanny masturbating in his bedroom. First speechless by this bizarre scenario, he fires her. 
She breaks down in tears, tells him she needs the job, and asks him if there is any other way to punish her. She begs him to lay her over his knee, punish her and then use her sexually to his liking.
Wear this: Work suit (single father), short skirt & tight T-shirt or schoolgirl uniform (nanny)
The dominant tennis coach is furious when his student loses an easy tennis match. He concludes the only way for this to never happen again is to punish her thoroughly. After verbally humiliating her the punishment begins. 
Wear this: Short tennis skirt & top (athlete), tracksuit (coach)
This roleplay works best when integrated into your daily life and is perfect for submissives who love to please their master. Whenever you two are in the house and the situation allows it may the master demand you to please him. 
For example, the submissive might be reading while the master comes home. If he is in the mood he might say "come here kitten" and explain how the submissive must please him today.
The recruit did poorly during the morning run for which they have been assigned extra training hours. The military instructor will order them to do push-ups, jumping jacks, and other fitness exercises. 
Start easy and later bring the recruit to their limits. When they start failing their sets the instructor verbally humiliates them, before giving them a different punishment. 
Wear this: Male military uniform, female camo lingerie
Accessories: Flogger, paddle or cane 
A security guard recognizes that one of the motion detectors went off. When checking the company facility he is able to capture the thief. 
Stunned by their incredible physique and great looks he tries to cut a deal. Be creative with the deal, what does the submissive thief have to do to get free? Make them orgasm 3 times? Be punished? Give a striptease? 
Wear this: Security guard uniform, black trousers & T-shirt & mask (thief)
Accessories: Handcuffs, duct tape 
One partner plays the cheater while the other plays their secret lover. The secret lover knows their partner is married but overlooks it due to their obsessive love for them. 
Act out a conversation where the cheater wants to break up and be exclusive to his wife. The secret lover goes crazy and threatens to publish a sex tape if they don't have sex one last time. 
Not wanting the sex tape to be leaked they agree. During sex, the secret lover takes out all their frustration and anger through BDSM punishment while insulting them.
Accessories: Bondage ropes, sex tape 
Angry sex can be incredibly hot. Make up a story about why you are arguing with each other. But don't use a past argument or things your partner is insecure about; this might end up in you actually fighting. 
Have the fake argument, but at one point, start making out, angrily and passionately, of course. While moving to the bedroom, you could fake insult each other. 
Accessories: Throw a newspaper through the room
The submissive finds themselves strapped to a bed (legs and arms are tied to each corner). They kick and scream but are unable to free themselves. 
The dominant, playing the mad scientists, laughs and explains to them that they will be experimenting with her pleasure centers (nipple, clit, G-Spot, anus). The dominant starts stimulating the submissive's nipples and labia, teasing her until she begs for more. When she does, stimulate her clit, G-spot, or anus until she is about to come. 
Use a vibrator to edge her a couple of times before penetrating her. Edge her as many times as you like and only let her come with your permission. Agree on a punishment in case she comes before then. 
Wear this: Doctors uniform or scientists costume
Accessories: Bondage rope, vibrator
You are flying to a sunny resort and the submissive was in charge of packing, but they messed up, packing warm clothes instead of summer clothes. 
A perfect punishment would be to drop wax from a safe distance onto their skin and all over their body. 
Accessories: Safe candle wax
One partner is possessed by a demon. The dominant bends them naked over a piece of furniture to drive out the demon through impact play. You could use your hand, a cane, a flogger, a paddle, or a whip. 
Make sure to massage your partner's butt before lightly spanking them. This will increase the blood flow, making impact play more pleasurable for the recipient.
Wear this: Demon lingerie
Accessories: Flogger, paddle or cane 
The submissive partner playing the prisoner escapes his cell (your bedroom) and has to pass the guards (dominant in the living room). 
One of the guards prevents the escape and brings the prisoner back to the cell. Before leaving he makes sure to handcuff them to their bed and give them a proper punishment. 
Wear this: Sexy cop lingerie, prisoner costume
Accessories: Handcuffs
The candidate enters the boss's room to receive the final decision, they sadly did not get the job. Desperate for a job, the candidate loosens their shirt buttons and starts their mission to seduce. 
The seduction part may include bending over, masturbating in front of them, oral sex, entirely giving themselves to their boss's needs, or dominating them until being accepted.  
Wear this: Suit (guys), tight office skirt (ladies)
Accessories: Flogger, paddle or cane 
Sex worker and undercover police officer
A sex worker is seducing an innocent-looking guy at the local bar. (Start as strangers at the bar and then go to your apartment). They agree to go back to her apartment. 
After she asks for payment, he reveals his true identity – an undercover cop. The sex worker begs to be let off and offers him sex for free, but he wants more than that. He wants to first punish her sexually while she admits her crimes out loud. 
Wear this: Slutty dress (sex worker), jeans & T-shirt (undercover cop)
Accessories: Handcuffs, Flogger, paddle or cane 
Somehow a stalker (submissive) finds out their pop star's (dominant) home address and decides to turn up in a short and slutty minidress. 
When the idol opens the door she confesses her love for him and willingness to do anything for him. So he makes her his "little kitten" making her wear a collar and walking her an all-four into his bedroom.
Wear this: Rock star outfit, slutty clothes or neon lingerie (stalker)
Accessories: Collar with leash
When the thief enters the kitchen he sees the homeowner sitting at the kitchen table utterly drunk and with a vodka bottle in her hand. He ties her to a chair but she jokingly tells him "Ohhh, I like that you know. Might as well spank me for being such a naughty hostage" (drunkenly mumbling). 
While the robber is searching the apartment the hostage is being incredibly annoying: telling him wrong hiding places for her jewelry or talking about irritating stuff. At some point, the robber has enough and proceeds to punish her, per her request. 
Wear this: Black trousers & T-shirt & mask (robber), lingerie (hostage)
Accessories: Handcuffs, bondage rope
The politician has inside information on whether the current president will candidate for another legislation period or not. They ask the reporter in a seductive way how far they would go to obtain that information. 
Having their career depend on this information the reporter is willing to do anything. Many BDSM practice goes well here. But remember to give the submissive their information at the end of the play. 
Wear this: Suit (guys) tight office skirt (ladies)
Accessories: Flogger, paddle or cane  
Start this roleplay in a club or bar where you meet, flirt, and dance as strangers before inappropriately touching each other and making out. At the end of the night go home and pretend having a rough one-night stand. 
The dominant verbally expresses that this is only a one-time thing and that they will use them for their own pleasure. Especially submissives who like the feeling of being used will enjoy this play.
Wear this: Slutty minidress, leather jacket & jeans
Great for outdoor sex enthusiasts. Have rough sex in the woods or in a cave with the sole goal to procreate. Talking is not allowed, only grunting and moaning.
The submissive princess enjoys annoying her husband and getting punished for it later. She once again ran away from home when her husband finds her in the city in a provocative dress. 
Deeply annoyed he drags her home, ties her to the bed, and gives her the usual punishment. With every impact from his paddle he makes her say either 1) what she did wrong 2) what a terrible wife she is 3) how she will never humiliate him in public ever again. 
Wear this: Princess outfit, knight costume
Accessories: Bondage rope, flogger, paddle or cane 
When a small UFO crashlands the FBI officer is sent out to capture the alien. He pulls the unconscious alien out of the UFO, and is shocked, they look like humans, but their skin feels different. 
He carries them home, strips them naked, and ties them to the bed for further examination. Then, he uses candle wax, ice cubes, and the wartenberg pinwheel to examine their skin, especially near erogenous parts. 
Wear this: FBI officer uniform, alien costume
Accessories: Safe wax candles, ice cubes, wartenberg pinwheel
Drug lord and police chief's daughter
The police chief's daughter and the largest drug lord in the city are having an affair. The drug lord finds out that her phone was tapped and decides to punish her for compromising his operation.
When a very attractive intern hands in a terrible application the CEO nonetheless accepts. But weeks later they order the intern into their office and demand a special thank you. The intern resists for quite some time but then gets punished and mannered. 
Wear this: Suit (males), short office skirt & lingerie (ladies) 
Start this roleplay in public where the submissive starts being needy and horny, kissing and touching the dominant inappropriately. 
The dominant then decides to put an end to this and drags them home for punishment. Tease them and bring the submissive close to orgasm, edge them multiple times as a punishment for being needy in public. 
Accessories: Vibrator
The reporter has found evidence that a local cop they've been sleeping with has been working with a drug cartel and providing them with inside information. When confronting them, the dominant cop ties them to a bed and makes them promise to never leak that to the police.
The reporter resists and asks for 50% of the cut. Annoyed by their bratty behavior, the dirty cop decides to punish them. Any punishment goes but when using an impact toy make them count every hit. 
Wear this: Cop uniform
Accessories: Handcuffs, cane 
We hope you were able to find some inspiration for your next BDSM roleplay.