Lesbian Roleplay Guide With 25+ Hot Scenarios For Inspiration
By Mia Flores – Aug 10, 2023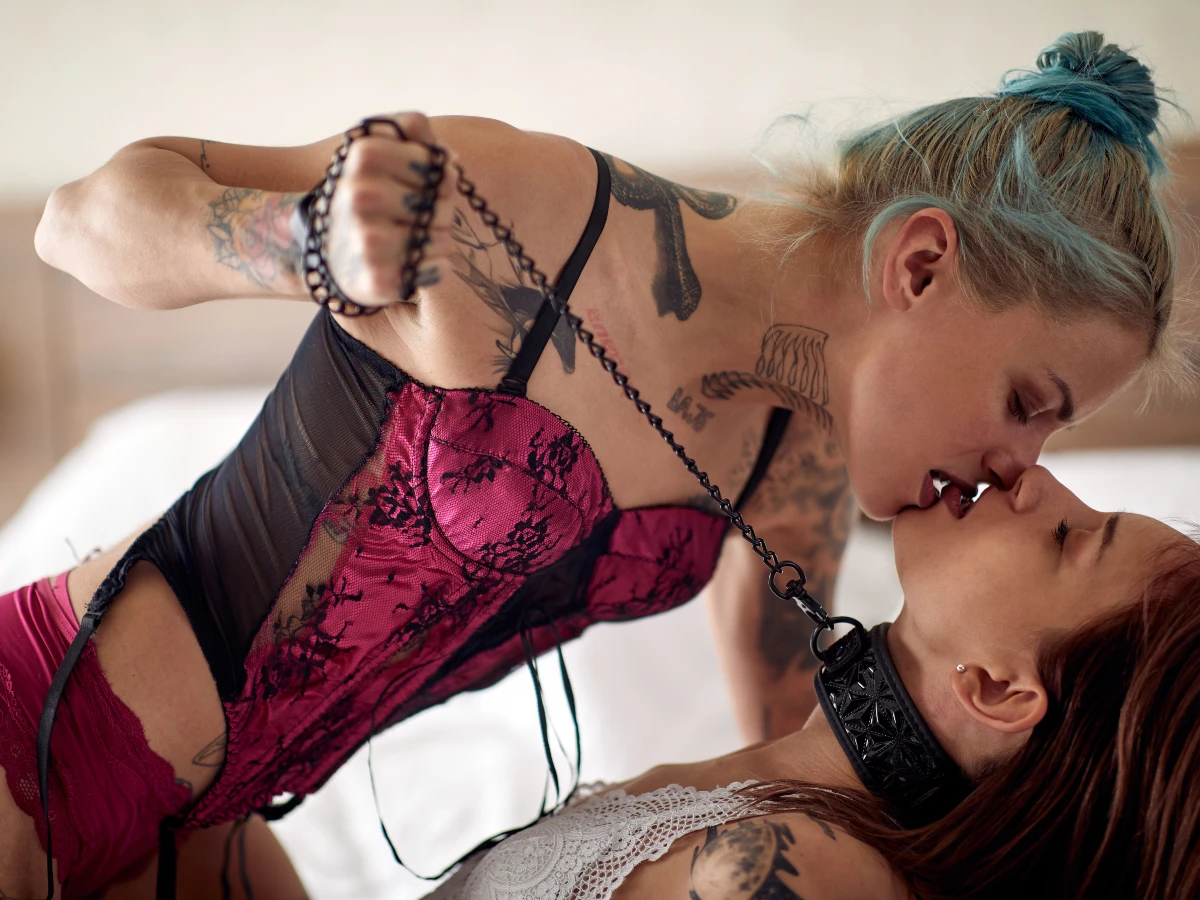 A recent study discovered that lesbians orgasm more than straight women. Well duh, didn't surprise me. But it's also known that lesbian couples do it less frequently than straight or gay couples. And that's what we are here for to change. Lesbian roleplay can be so much fricking fun, so we've put together a list of lesbian roleplay ideas for you to get inspired by.
2) Lesbian Roleplay Ideas
The following lesbian roleplays range from romantic to fantasy to "perfect for butch-femme couples". Anyways they are in no particular order.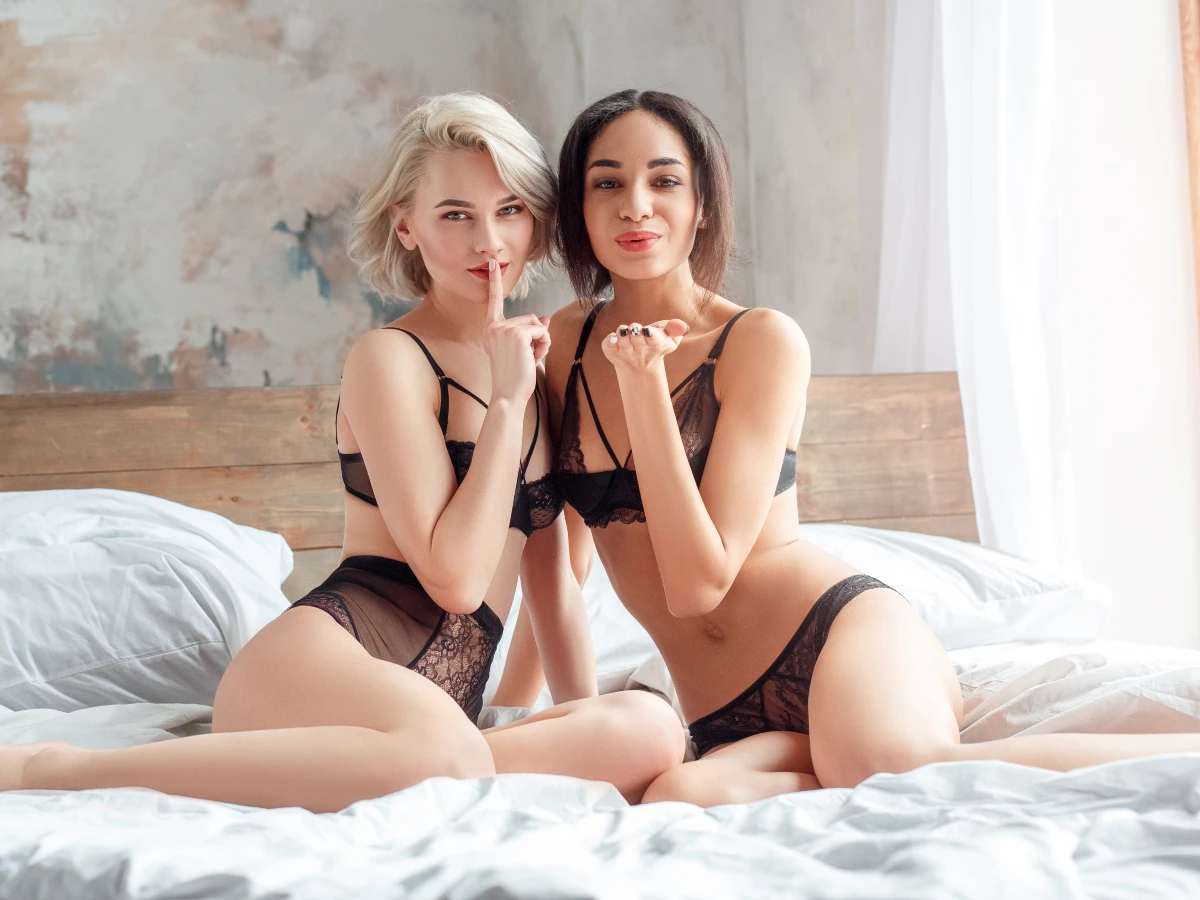 The rich CEO hired a female bodyguard for his daughter so she wouldn't attract so much attention. When they are alone the daughter tries every naughty trick there is to seduce her bodyguard, seductively undressing, walking around naked, slapping her ass, etc. Finally, the bodyguard gives in, but only under the condition that the daughter undergoes severe punishment first. 
Wear this: Suit and one earplug (bodyguard)
Accessories: Flogger, bondage rope
Once a decade the demon is allowed to take on human flesh and still her lust for the feminine body for just one night. As always she sneaks into her victim's house and surprises them in their sleep. At first, they struggle but once she possesses them with her powers they will do anything to please her. 
Wear this: Devil lingerie (demon), sexy underwear (human)
Both princesses are forced to marry different kings for political reasons. They won't be seeing each other again from the next day forward, so they decide to spend one more romantic night together. Dress up as princesses and spend a night at candlelight (or campfire) while avoiding any modern technology whatsoever. 
Wear this: Princess costume, princess lingerie, or white lingerie
After a stressful day of work, the successful marketing director comes home to her housewife preparing dinner for them. They eat in silence but the housewife notices the disgust on her partner's face. Not shortly after they finish she tells her housewife to get the cane (or flogger) so she can punish her for the horrible food she prepared. 
Wear this: Chic clothes, suit or blouse (marketing director), sexy french maid costume (cook) 
Accessories: Flogger, cane
She is gorgeous, powerful, and has plenty of responsibilities. To deal with her stressful daily life she has a number of sex slaves that must serve her when called (short Whatsapp command). She likes to lie down and let them do the work while she enjoys the pleasure and view. The sex slave wears whatever she is told to wear. 
Wear this: Royal lingerie
It's only her first week when her boss calls her into her office. She locks the door behind her and tells her to sit down. "I could fire you for wearing such a short dress. You are a distraction to all men in this office, …. and me" she yells at her. "I don't even like men" the rookie responds. "Don't you dare lie to me. I can't stand liars." The rookie can't afford to be fired this early so she goes under the table to prove indeed that she does prefer women.
Wear this: Chic clothes, suit or blouse
It's the first night at campus and you've only yet met your roommate that day. But suddenly during the night, you can hear something vibrate and then soft moans. You get so turned on by her moans that you start to touch yourself as well. An eternity later you hear her sneak under your blanket.
Accessories: Vibrator
Ikeas just delivered new furniture but the housewife refuses to do it by herself. Her idiot husband won't do it either, so she calls a service. When the handywoman arrives she can't take her eyes off of her while she builds the furniture. To get things going she decides to come back only wearing a towel and starts complaining about how her husband can't satisfy her etc. "I wonder what it feels like to kiss a woman," she says, but the handywoman is already all over her.  
Wear this: Shorts & tank top (handywoman)
Accessories: Something to put together
Perfect for those who like to incorporate a dom-sub dynamic as the owner is usually dominant. Check out our full kitten play BDSM guide we recently published.
The massage starts out completely normal and after some time the masseuse engages in small talk. They talk about everything and anything until she finds out that her client is lesbian. That changed the whole dynamic and the conversation goes dead. The masseuse silently takes off her clothes until she is dressed in lingerie and continues the massage. The client suddenly notices how the massage gets closer and closer to her vulva. 
Wear this: Lingerie below yoga pants & t-shirt (masseuse) 
Accessories: Massage oil, towel
She is the god of sex, love, and beauty. And not surprisingly full of herself. She only chooses the most attractive servants and expects to be worshipped and pleased whenever she desires it. This night is no different. When she calls for you she is wearing stunning lingerie and expects you to worship and kiss her entire body. If she pleases she might tie you to her bed and use you as her little toy. 
Wear this: Lingerie (Venus)
Accessories: Bondage rope
Your wife is a vampire, you've always known that but you've decided to stay a human and not get bitten. But now you are sick and dying. Afraid she might lose you the vampire bits you (gives you a hickey), converting you into an immortal vampire. When you wake up your heightened scenes make you go completely crazy over her body. 
Wear this: vampire costume or lingerie (vampire), sexy underwear (human)
Rich landlord and poor student
When the rich landlord comes by to collect rent she is confronted by a tearful student unable to pay. She balls her eyes out and begs for more time, but the landlord wants something in return for the favor. The college student assures her she would do anything, absolutely anything. With a smile on her face, the rich landlord grabs the college student by her hips. 
Wear this: Suit or blouse (landlord), sexy schoolgirl costume (student)
This one is a classic. Madam is dominant and in a constant mood to punish her little toy. Sometimes even without a reason. "Toy", yes that's her name, must wear whatever madam wants her to wear, server her whatever food she wants to be served, please her in any way she wants to be pleased and be punished in any way Madam desires. Great punishments are flogging, spanking, orgasm denial, or hot wax. 
Wear this: Black or red latex clothes (Madam), lingerie, or french maid outfit (Toy) 
Accessories: Safe wax candles, flogger, bondage ties, handcuffs
The human meets an enchanting and attractive lady at the local market. She invites her home for a tee and some biscuits. At home, the witch prepares her victim a hot tee with her sex potion which gives her the power to control her victim during sex. As soon as the potion shows effect she demands the human to undress and give her a striptease. The witch will be in control during the duration of sex. 
Wear this: witch lingerie, innocent dress (human)
Accessories: Fruity tea
This lesbian roleplay is great for butches that like to handle their femmes. 
While on a cute date night, the overtly styled and glamourous looking reality star is giving her butch a hard time, being extra and toxic. Once home the butch puts her in her place, even punishing her for her embarrassing behavior in public. 
Wear this: Overdress (reality star)
You both came back to heaven after a stressful mission on Earth. To cleanse yourself from the earthly sins and toxins you must engage in sensual and romantic sex. White lingerie, candles, and classical music are a must. Invent stories you experienced on earth and have romantic sex. 
Wear this: Angel lingerie or white lingerie with white stockings
The Seargent orders the rookie to stay after training. When everybody is gone she makes the rookie do extra pushups and crunches to see her limit. At some point, she collapses from exhaustion, so the Seargent orders her to be at her office at 5:00 am for extra punishment. The rookie begs her to let her sleep longer since her exhaustion is that bad and offers to do anything else she wants. Be creative about what this could be: eating her out, BDSM punishment, lapdance, etc. 
Wear this: Soldier costume or soldier lingerie
You and your best friend are having a sleepover. You made popcorn, watched a movie, played a board game, and now you are playing "Never have I ever" until you say "Never have I ever had a crush on a friend". When she drinks to that question you obviously want to know who it is, but instead of giving you an answer she kisses you. 
Accessories: Popcorn, boardgame, drinks
As always the cute goth girl is sitting alone in the cafeteria (your kitchen) insecure and avoiding any social interaction. The team captain of the cheerleading team has had a crush on her for quite some time. When the cheerleader captain approaches the goth girl she can't believe the most popular girl from school is inviting her to a sleepover. The goth girl might bring a sexual tarot card game, while the cheerleader brings her uniform. 
Wear this: Cheerleader uniform, goth lingerie
Accessories: Sexual tarot card game (or other sex card game) 
The older sister is in town for Christmas but her old room has been turned into a home gym, so she shares a bed with her younger step-sister. Cuddle and invent two different lives you could chit-chat about. 30 minutes into sleeping the older sister slides her hand into her sister's panties. 
Wear this: Joggers & oversizes T-shirts
3) Even More Lesbian Roleplays
We have so many more blog articles that have different roleplays. Most are for straight couples, but some can be adapted to lesbian roleplay. Since I want to give you as many ideas and inspiration as possible I have listed these below: 
I hope I could convince you to try your first lesbian roleplay or give you at least some inspiration and ideas.