25+ Femdom Role Playing Scenarios To Bring Out Your Inner Dominatrix
By Mia Flores – Aug 12, 2023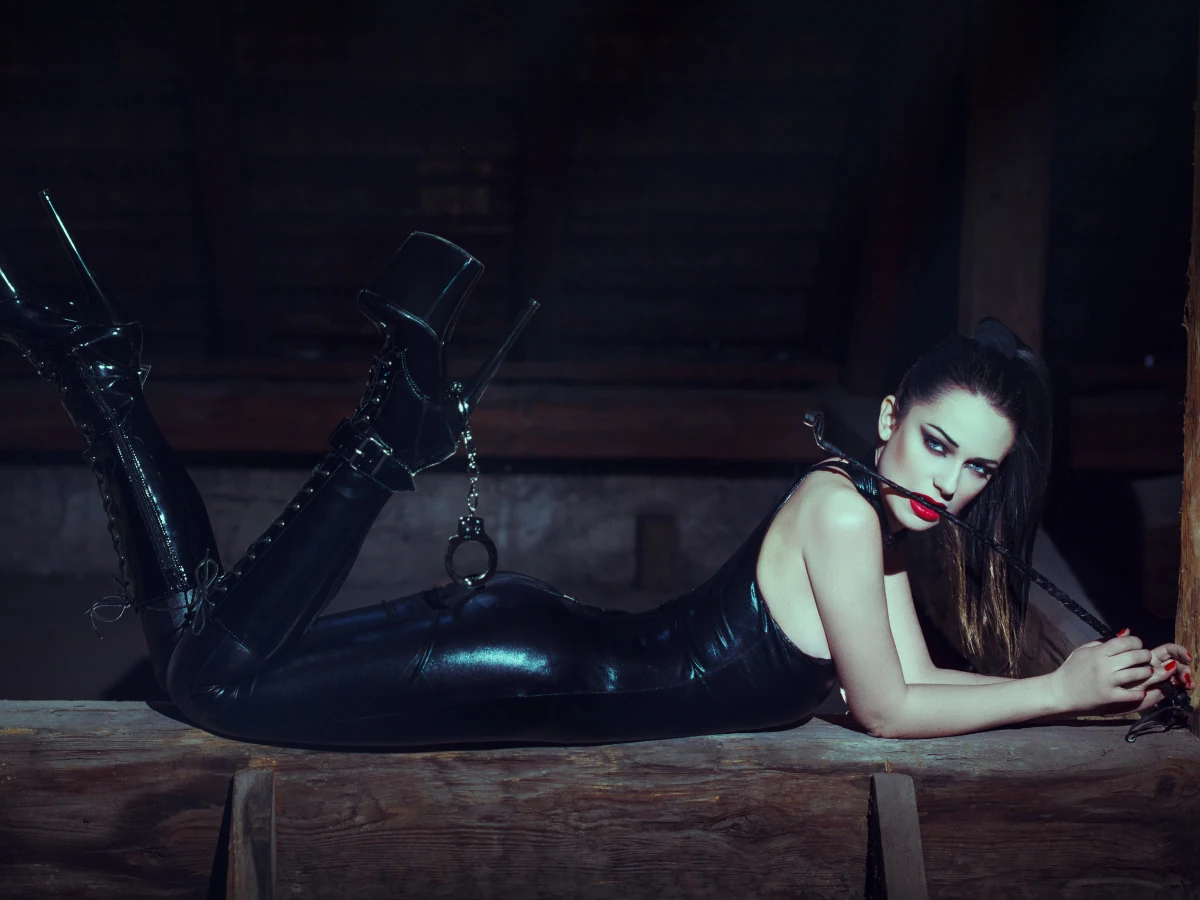 A fetish that has been rising in popularity in recent years is femdom, short for female domination. This fetish includes a vulva owner dominating another partner through verbal humiliation, impact play, dominance and so much more. 
A couple of terms describing the dominant are Mistress, Madame, Domme (female version of Dom), or Dominatrix. Professional dominatrixes report that the number one reason why men like to partake in this kink is to give up control and escape their stressful life.
2) Punishment Ideas For Your Femdom Roleplay
Bondage: Tying them to a bed, chair, or other furniture.

Humiliation: Either verbally humiliate them through insult or force them to do pointless tasks like balancing coins on every finger just to punish them upon failure.

Forced orgasms: This is especially painful shortly after they had their first orgasm due to a sensitive penis.

Facesitting: Force them into eating you out.

Impact play: Toys, such as floggers, paddles, and canes will come in handy.

Strap on: To penetrate them with.

Glass or metal dildo: Glas and metal can be very cold and therefore great as punishments.

Anal training: Try fitting larger and larger dildos.

Temperature play: Either drip wax on them or rub ice cubes over sensitive body parts.

Worship mistress feet: Let them wash, lick, or kiss your feet.

Praise mistress: Demand them to praise you in every way possible.

Cock ring: Have them wear a cock ring so they won't get soft.

Vibrating sex toys: To stimulate their prostate or penis. Try using remote-controlled sex toys for even more control.  

Cock cage: So they can't get hard.

Orgasm control or denial: Edge them before you let them cum or forbid them to cum at all. 

Choking: Either use your hands for this or use a gag ball. 

Pet collar: Make your submissive wear a collar to which you could attach a leash. 

Nipple clamps: You could even add some weight to them. 

Stand against a wall: As a punishment force them to be quiet and stand facing a wall or corner. 

Wartenberg pinwheel: Use this one on their skin. 
3) How To Be A Confident Dominatrix
Talk about their limits and no-gos before femdom role playing. I recommend writing them down together and discussing them in detail. For example, talk about what impact toys you are allowed to use, on which body parts, and how hard.

Use the traffic light system for effective communication. Saying "green" means "all good", "yellow" means "back up a bit, you are approaching my limits", while "red" terminates the femdom roleplay immediately.

Memorize their limits and respect these during the femdom scenario.

Always make sure you have consent before engaging in femdom roleplay.

Engage in aftercare: When your scenario ends, talk about what felt great and what aspects need to be improved. Cuddling, taking a warm bath together, or watching a movie are great ways to transition from the fetish mindset back to reality.

Constantly read their body language to make sure you are not emotionally or physically harming them. If you are ever unable to interpret their body language, ask them. This will probably happen a couple of times with a new partner and is completely normal. Better safe than sorry, right?

Speak in a dominant, loud, and assertive voice.

Pay attention to your posture: Make yourself tall with your back straight.

Use words to humiliate and assert dominance.

Have a couple of tools, such as dildos, impact toys, bondage rope, or anal vibrators, and know how to use them.

Constantly learn – either through gathering experience or by searching the internet or bookstore for information

Prepare beforehand: Clean, disinfect, or charge your toys, have safety scissors at hand when engaging in bondage, etc.

Wearing dominant clothing (details below)
4) Correct Clothing For Dominatrix Role Playing
Wearing appropriate clothes will make your femdom roleplay so much sexier, trust me.
1) One option is to go all in. Wear a latex catsuit with latex thigh-high boots.
2) Another great option is wearing a corset with stockings and heels.
Typical colors to go for when buying your catsuit, lingerie or heels are black and red.
5) Establish Ground Rules
To assert dominance from the beginning, set up some ground rules before your first dominatrix role play. 
The dominatrix must only be called by the chosen name. Some great examples are queen, mistress, goddess, lady, princess, owner, highness, and empress. 

The submissive gets their own nickname. You could use idiot, plaything, manwhore, or sub.

Never question the mistress: Whatever request the mistress has must be followed without question.

Every punishment is just: Never question whether a punishment is justified or not. 

Ask for permission: The submissive must ask permission to masturbate, change position, pee, etc. 

Orgasm denial: The mistress alone decides when and whether the submissive is allowed to cum. 

Mistress has to be worshipped and thanked: The mistress is to be thanked for every punishment and order. Her time is valuable and the submissive must acknowledge her making time for them. 

Good attitude: Show your thankfulness through a positive and attentive attitude. 

Serve your mistress: If your mistress requires anything, the submissive's job is to fulfill their needs.
We hope you find some inspiration in the following femdom roleplay scenarios. Although we suggest some suitable punishments, we encourage you to incorporate any punishments you both are comfortable with.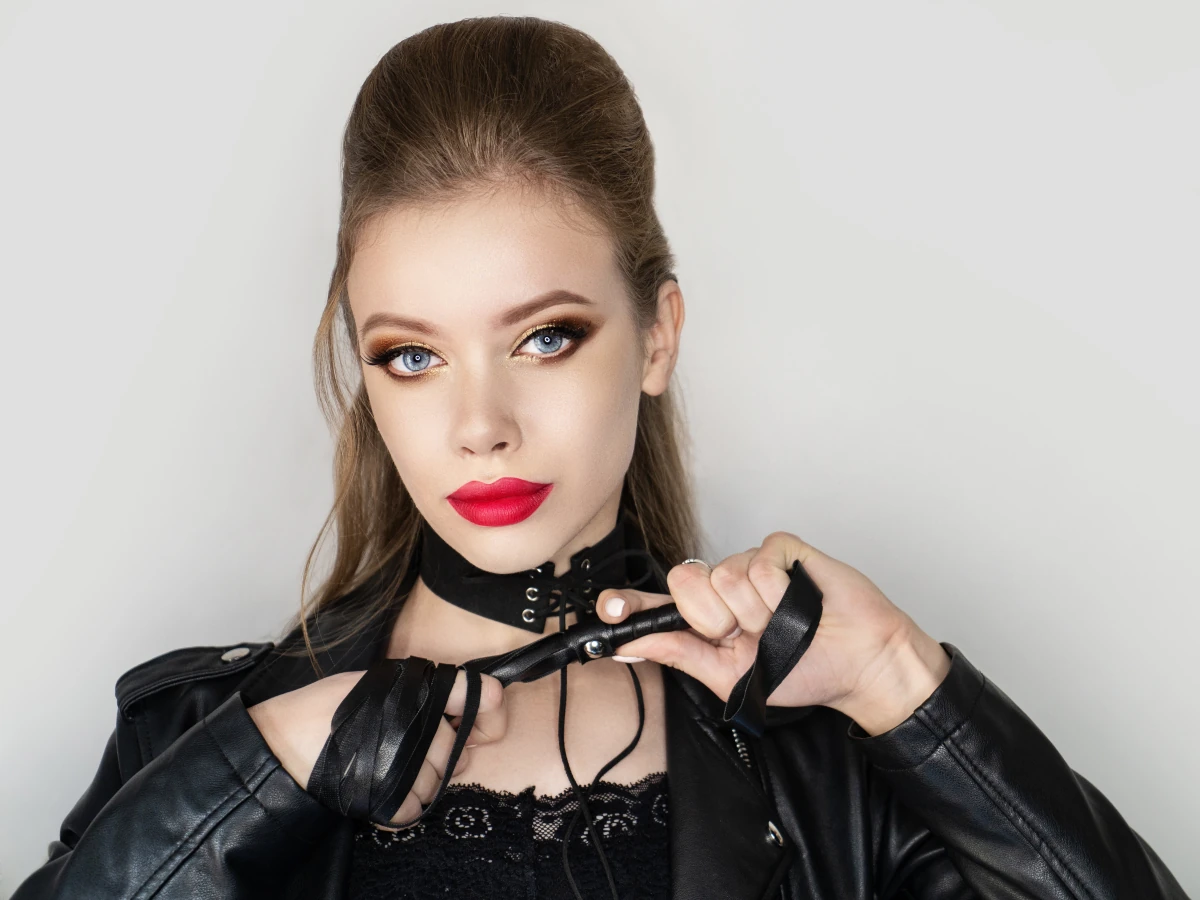 Thief and dominant homeowner
When sneaking into a rich women's house, the thief is caught in the act. While trying to open the safe, the lights go on, and he sees the rich woman pointing a gun at him. 
He begs her to let him go, but she throws him handcuffs to cuff his own hands behind his back. He watches her sit down on the sofa and spread her legs. Then she demands him to eat her out and make her orgasm. Only then may he leave. 
Wear this: Dressed in black (thief), nightgown with no underwear (homeowner)
Accessories: Handcuffs
The husband has not been giving his wife enough attention. When she confronts him about being distant at dinner he denies everything and tries to avoid an argument. 
Furiously she stands up, walks across the table, and grabs her husband by the hair. She drags him into the bedroom, ties him to the bed, and punishes him. To make up for his unattentiveness, she sits on his face and uses his tongue to her pleasure. 
Accessories: Bondage rope, food 
On her way home from the local market the witch eyes a handsome human. Flirtingly she goes up to him and tries to seductively lure him into her house, but he doesn't catch on. 
So she decides to bewitch him and makes him follow her every wish. After a quick spell, he follows her every order with pleasure and a submissive "yes mistress." 
Wear this: Witch lingerie
While the dominant is watching a movie the submissive acts as a naked human plate. Either they lie over their legs or are positioned on all fours. Order sushi and position it on their back to eat off with chopsticks. To avoid injuries, do not use food you might have to cut on their back. 
In the meantime, they must stay still and quiet. When finished either let them eat (give you head in this case) or spank them if they did a terrible job. 
Accessories: Movie, sushi
The female headmaster does her usual Sunday inspection of the student's houses. When entering a boy's dormitories she catches a senior masturbating. 
She threatens to humiliate him during assembly if he does not agree to her proposed punishment: verbal humiliation and impact play. 
Wear this: Strict office outfit (headmaster)
A client pays for a striptease in a private room but gets handsy while grinded on. After asking him multiple times to refrain from touching her, she decides to punish him. 
She seductively takes off his shirt and handcuffs his hands behind his back. After slowly removing her clothes she slips into a catsuit. 
Then, to make him apologize she uses hot wax and the wartenberg pinwheel to inflict pain. 
Wear this: Lingerie & latex dress & high-heels (stripper), suit (customer)
Accessories: Handcuffs, safe wax candle, wartenberg pinwheel
In this femdom roleplay, the client has an appointment with a professional dominatrix. Upon arrival, he immediately hands over the money after which his session starts. 
He is ordered to get on all fours and follow her to her room. Anal training, impact play, orgasm denial, or wearing a cock cage are only a couple of things the dominatrix could do. 
Wear this: Black catsuit or corset & high heels (dominatrix) 
Accessories: Different size dildos for anal training, floggers, canes, paddle, cock cage
Captured knight and horny nurse
After a battle the captured and wounded noble knights are treated by nurses so they can be exchanged against captured knights from their own ranks. The nights have been strapped to their beds to avoid them escaping. 
A particularly horny nurse whose husband died long ago is dazzled by a good-looking knight. She decides to use him for her pleasure, facesitting on him and riding him until she comes. 
Wear this: Nurse lingerie, knight costume
Accessories: Bondage rope 
After the bell rings the naughty student is ordered to the front desk. She threatens him with a bad grade if he does not make it up to her, while seductively opening her legs and revealing her pussy. 
She takes his head and pushes it between her legs not letting him breathe for a while. Either the dominant lets the submissive pleasure them or punishes them for bad behavior. 
Wear this: Tight office skirt with no underwear
Accessories: Flogger, cane, paddle
The policewoman enters an apartment after a neighbor reports a break-in. She searches the apartment and finds the thief hiding. 
While handcuffing him, he begs for mercy and promises to never do it again. They make a deal: Punishment for his freedom.
Wear this: Police costume, black trousers & T-shirt & mask (criminal)
Accessories: Handcuffs, flogger, cane, paddle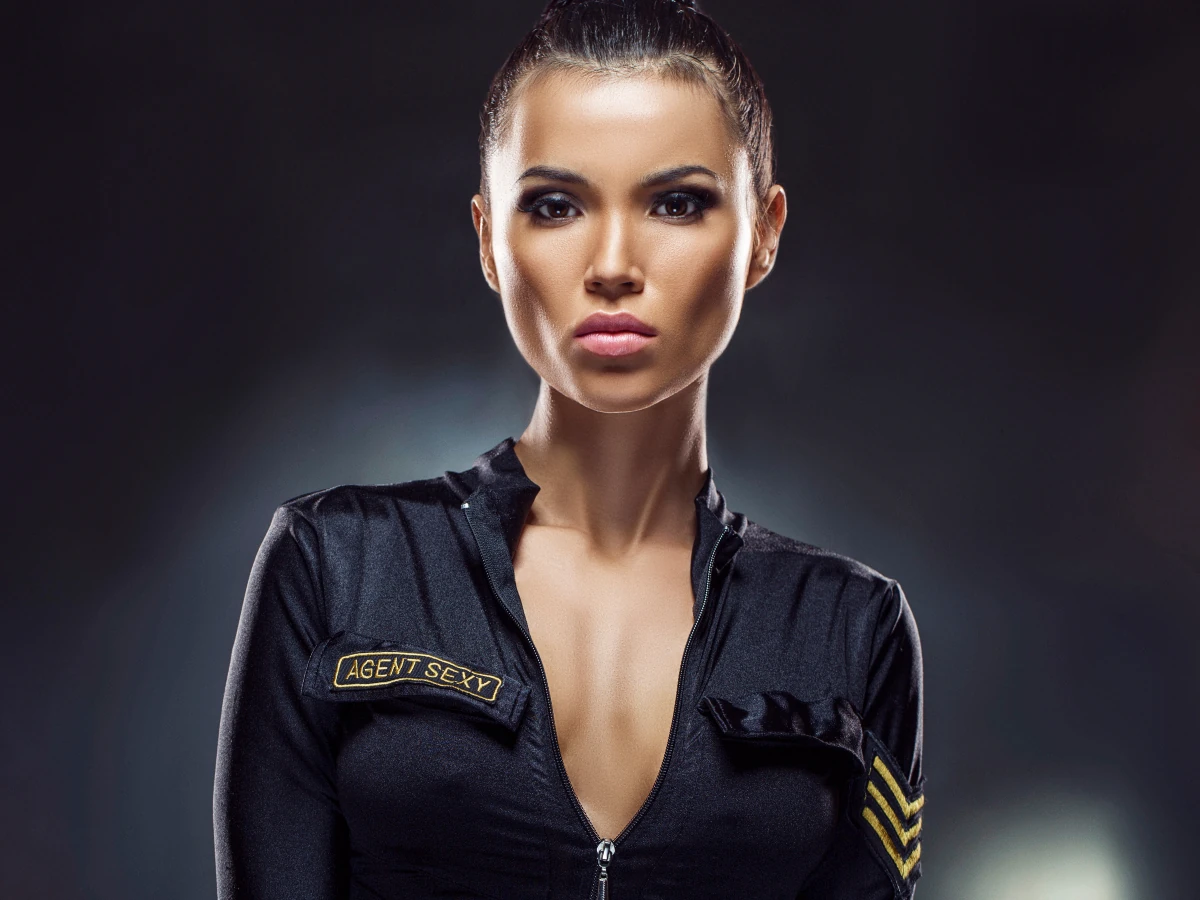 When a teacher refuses to bring back the books the dominant librarian decides to pay him a visit. 
As soon as he opens the door she orders him to submit and get on his knees. She puts a collar and leash on him and walks him into the living room to receive his punishment. 
She asks him facts about the books he had for 2 years but never managed to return and spanks him every time he answers falsely. 
Costumes: Shirt & chino (teacher), glasses & dominant lingerie & high heels (librarian)
Accessories: Science books
His boss calls him into the office after making a huge financial mistake. As soon as he enters the office he gets yelled at. She pushes him onto the couch and orders him to take off his clothing. 
She forcefully stimulates him just to the edge of orgasm before stopping and screaming "now you know what it's like to want something but not get it". Continue with any punishment. 
Wear this: Tight skirt & blouse & over-knee boots (boss) suit & tie (employee)
Accessories: Prostate vibrator
Nurse and naughty patient
When a patient constantly annoys a nurse by touching her and calling her multiple times a day, she decides to punish him. 
During the next body exam, she tells him to strip naked and lie on her knees. She could either start spanking him or train his anus with different-sized dildos. 
Wear this: Nurse costume, patient robe 
Accessories: Anal training kit
When a new intern starts at the firm the head of the paralegal decides to teach him how their hierarchy in the company works. She explains that there are strict rules and that those in lower positions must always follow their superior's command and strategy. 
The intern starts arguing how this is not fair and against employment laws etc. After having a lengthy discussion the dominant boss decides to train him to submit. 
Wear this:  Tight skirt & blouse & over-knee boots (head of paralegal), suit & tie (employee)
The boss and her secretary are having a secret affair. He is called into her office and ordered to lock the door. When she tells him to get under her desk he follows her orders without hesitation. 
She spreads her legs to show him that she's wearing absolutely nothing beneath her skirt, before forcefully pulling his head closer. 
Wear this:  Tight skirt & blouse & high heels (boss), suit & tie (secretary)
Accessories: Office desk 
The door rings. When she opens the door her son's best friend wants to drop something off. As always, he is checking her out shamelessly. She seductively smiles and invites him in. They small talk until he asks her what she does for a living, already knowing that she is a professional dominatrix. 
She shows him her studio with all her instruments and sex toys and jokingly offers him a lesson. 
Accessories: Flogger, cane, paddle, strap-on, hot wax
During a sensual massage, the client starts touching the masseuse. After repeatedly telling him to stop without any effect she gives him an ultimatum. If he touches her one more time there will be consequences. 
So when he finally does, she removes his towel and spanks, flogs, or hits his butt with a paddle. This is also a great position for some anal or wax play. 
Wear this: Towel (client), lingerie (masseuse)
Accessories: Flogger, cane, paddle, hot wax, dildos 
After waking up, the queen orders her servant into her dressing room. First, he helps her take a bath by cleaning her with a soft sponge. 
After drying her off he moisturizes her skin and gives her a massage on the bed. At some point, she gets so horny that she tells him to massage her between her legs. 
Wear this: Suit (buttler)
Accessories: Soft sponge, warm towel, moisturizer
When he knocks on the door she greets him in a black corset, string, stockings, and high heels. She orders him to strip naked and follow her to the room. There she pushes him onto his knees and makes herself comfortable on the bed. She winks him to her and buries his face in her pussy while grinding against his tongue. 
Just when she is about to cum the switch occurs. "You thought you could use me as your sex slave," he says while forcefully turning her around for doggy. 
Wear this: black corset & string & stockings & high heels (ladies), suit (males)
During a personal training session, the client repeatedly gazes at her cleavage and ass, while making inappropriate comments. She decides to punish him by training him even harder. 
But when that doesn't show any effect she decides to teach him respect toward women. She could take off her yoga pants and sit on his face while he is doing sit-ups.
Wear this: Yoga pants & sports bra (trainer), sportswear (client)
Accessories: Yoga mat
The male porn talent meets for an interview with his female director. First, they go through his CV and talk about what he is willing to do. She then tells him that they have a new procedure and that every male talent must go through a test run with her. 
In this femdom roleplay, the director is obviously the dominant and can order him to do whatever she wants. She could start by testing his head skills, followed by his fingering skills or doggy style.
Wear this: Tight skirt & blouse & over-knee boots (director), jeans & white T-shirt (talent)
We hope some of these femdom scenarios appeal to you and you are able to incorporate them into your sex life.